Dawn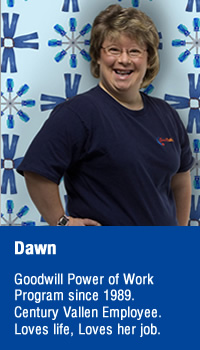 Dawn Stewart is kind of a celebrity.
As a Donor Greeter at the Goodwill Donation Centre in Sherwood Park, Dawn has a devoted group of followers who sometimes pretend to drop off donations when they want to hear all the latest gossip in Dawn's life.
She started with Goodwill in 1989, attending classes teaching literacy, work habits, and personal development. It was this training that led Dawn to find employment – and celebrity status – as a Goodwill Donation Centre attendant.
In 2007, she was hired by Century Vallen to be a tool engraver. Thanks to her exemplary work ethic, Dawn has found permanent employment at Century Vallen. If you ask her about it she'll tell you, "I love my job at Century Vallen." And it seems that thanks to her celebrity reputation, even the CEO wanted a candid photograph with Dawn.
But she wasn't done giving back to her community. In March 2008, Dawn began volunteering at the Edmonton Art Gallery, lending the organization some of her celebrity status, as well as helping to assemble mail-outs.