Sarah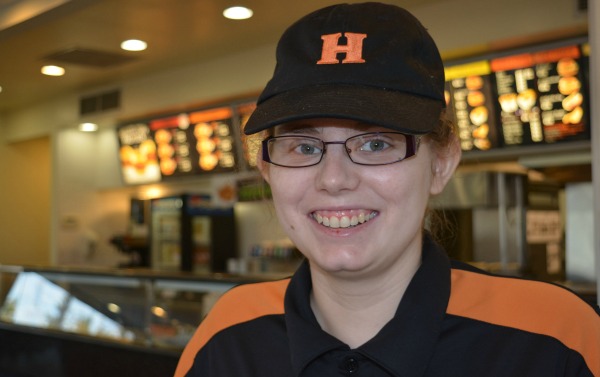 When Pat Phelan became the manager of the Harvey's restaurant on 170th and 106 avenue in Edmonton, there was an individual working there who was in Goodwill's Power of Work (POW) program. Pat learned through Goodwill, people with unique abilities are connected to jobs and he embraced it with enthusiasm.
When Pat took over the franchise on 34 avenue and Calgary Trail, he knew he wanted to connect people with unique abilities to jobs.
"I believed in the program and when I took over this location, an individual from Power of Work dropped off his resume," said Pat. "A week later the individual started working and that's how working with Goodwill got started."
After completing the Life Skills program at NorQuest Community College, Sarah entered the POW program. She had a job coach and together they focused on the unique abilities Sarah had and the type of job she wanted to do.
Sarah's job coach, Shawna Wall, coordinated a group interview with Pat and Sarah got the job.
"Sarah is very reliable," said Pat. "And when I say 'reliable' at 8:15 am that back door bell rings and she doesn't start work until 8:30 am."
Her dedication to her job and how efficiently she does it had Pat worried at first.
"When Sarah first started, we were like 'Okay, this is what you're going to do today.' And in a couple of weeks she just started getting faster and faster. I remember saying, "I'm afraid she's going to get bored here. She's going to end up leaving," chuckled Pat.
He and Sarah have formed a great relationship over the year. Sarah has a shy and quiet nature about her but with his gentle approach and leadership, Pat has been able to support Sarah in the ways she needs to grow.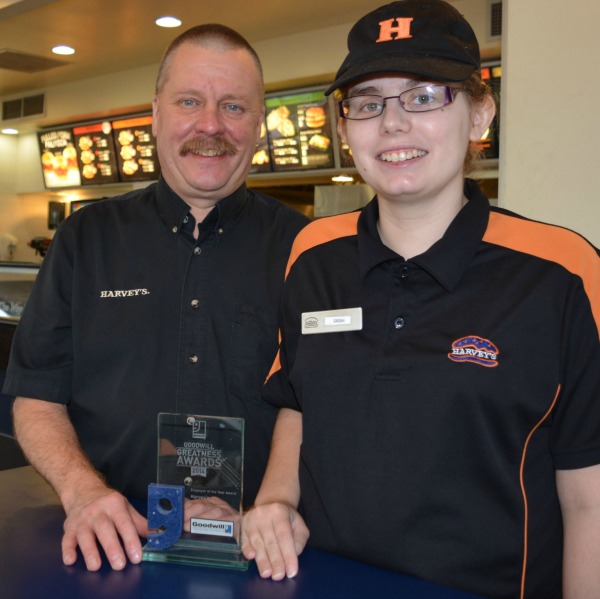 Teaming with POW is an overall benefit, explained Pat. Customers and guests have gotten to know Sarah and have learned how all abilities can contribute to a success and positive work environment.
"There are a lot of questions from guests but it's always positive," said Pat. "Like 'more people and businesses should be doing this.'"
In May, Pat was awarded with the Employer of the Year of the Year Award and Sarah was a nominee for the Graduate of the Year at the Goodwill Greatness Awards in Edmonton.
Employer of the Year is given to an organization that has provided outstanding support in the community for individuals with disabilities. Harvey's won because Pat has hired Goodwill trained people and demonstrated an outstanding commitment to their employment and promotion of our mission.
After meeting Pat, it is no surprise he received this award.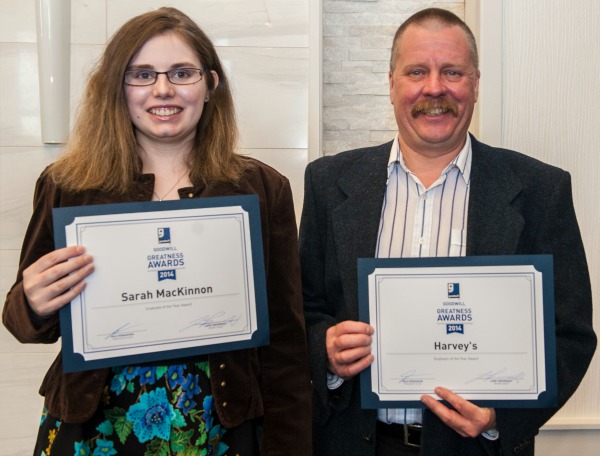 It's been a year since Sarah started working for Pat and she's still smiling. Her opportunity at Harvey's is more than just a job. Pat has championed how great of an employee Sarah is and they have formed a friendship over this past year. A friendship that is more than just employer-employee; it is a mentorship based on equality and recognizing individuals for their talents, personalities and unique gifts they bring to work every day.
"There are always opportunities. You've just got to reach out and grab them."