Why Donate
Connecting Albertans with disabilities to jobs since 1963
We are Alberta's Not-For-Profit Thrift Store Destination of Choice
89.6% of Your Donation Goes Directly Into Our Programs and Services
Thank you Alberta! It's because of your donations that Goodwill Industries of Alberta is able to provide support and programs to individuals with disabilities. More than 89 cents from every dollar received goes back into our programs that help support individuals in the community.

We Think a Personal Touch Still Matters
You deserve more than just a metal box to place your valuable, cherished donations in. Those clothes you wore the day you met your special partner, or that top that always seemed to bring an extra compliment, have special value to you and we get that. At Goodwill Donation Centers and Donation Drives you are greeted by one of our team members who will handle your goods with respect and care.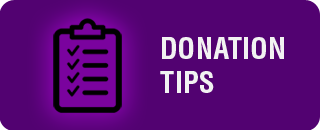 Helping Individuals with Disabilities
Through your donations, Goodwill is able to offer many exceptional programs to Albertans with disabilities. Our Power of Work program supports people with disabilities in locating employment or volunteer opportunities in their communities. Individuals are assisted with identifying their employment goals, employment preparation, job search and employment coaching. Our Commercial Services division is a center-based, inclusive place of employment for persons with mental health challenges. This division provides innovative and cost-saving services for businesses in Alberta such as, assembly, labelling, sorting, and packaging.
Ways to Get Involved
Donate your clothing and household goods
Host a donation drive
Volunteer