Inspiration For Your Daily Life
Before you visit Goodwill, get inspired by our fabulous fashion tips, home decor ideas, or our Do It Yourself project blog. Or check out our community stories, Goodwill videos, and special event details. No matter your lifestyle, we've got something for you.
Scroll or click an icon below to explore.
Get a look into what's happening at Goodwill by watching some great videos. Help spread our message by sharing them with your friends.
Simply SOS Professional Organizers
Simply SOS Professional Organizers  and Goodwill Industries of Alberta have teamed up to provide tips and tricks to help get your closet, house and life organized like Marie Kondo!
For the Simply SOS blog visit: https://www.goodwill.ab.ca/news/
For more on Simply SOS, please visit SimplySOS.ca
The search. The discovery. The hidden gem.
The things you can find at Goodwill will simply BLOW YOUR MIND.
You could stumble upon anything from vintage clothes, to designer shows, to decor ready for upcycling. You may not be looking for something particular, but you could end up leaving with something spectacular! Follow us on social media or use the hashtag #GoodwillFinds to inspire your search!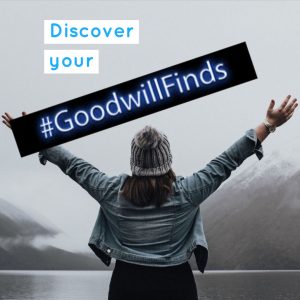 Home Decor & Style Inspiration
Wondering what to do with that new apartment you just moved into? Or maybe you're looking for some vintage home decor ideas for a seasonal look inside or outside. Every one of our stores is a treasure trove of fantastic items for fantastic prices. Check out some of our favorite home decor ideas that utilize everyday items from our thrift stores.
Fashion lives at Goodwill Thrift Stores. With an ever changing selection of women, men, and children's clothing, you'll always find something new and exciting to compliment your fashion style. Here are some great ways to dress up your thrift store finds into unique, one of a kind outfits that are sure to impress.
There's always something exciting happening at Goodwill Industries of Alberta. From donation drives to community focused events and even special fundraising activities. Check out our calendar of events below.
We're always looking for volunteers too! Come join us and become part of the Goodwill family of volunteers. More info…
Connect With Us!


For Promotions & Goodwill Community Stories
Alberta's Non-Profit Donation & Thrift Stores
Your donations change Albertan's lives. These are some of the stories of people that have directly benefited from your donations. We only wish we could tell you about every single story.