Learn more about the career connections division of Goodwill
We are a not for profit, for IMPACT organization that supports Albertans with disabilities  through the power of work and the dignity of a job.
Here you can learn about our mission driven programs at Career Connections!
Scroll below to explore.
What Is Career Connections?
The Career Connections program supports people with disabilities in locating and maintaining employment or volunteer opportunities. Individuals are assisted with identifying their employment goals, employment preparation, job search, and employment coaching.
Through an individualized Person-Centred plan, The Path to Employment program puts a focus on skill building, customizing work opportunities and job coaching. This helps support the needs of each individual.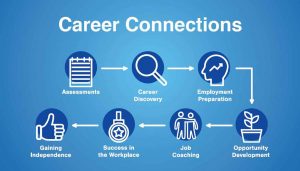 Once a client achieves their independence, there is so much more they can do. Everything about inclusion sets them up for their future goals, as they are looking to gain the same opportunities as everyone else, discovering purpose, while participating in a team environment.
Peter Kuttikat is one the successful graduates of the Career Connections Path to Employment program. The video below shows how Peter was able to gain meaningful employment by finding his fit at GFI solutions.
---
---
Mike and Michael are two shinning lights of joy at Goodwill's head office in Edmonton. Both Mike and Michael graduated from the Career Connections program in 2018 and joined the Goodwill team. They make up a proportion of the 30% of Goodwill's workforce with a self-disclosed disability. Watch the dynamic duo in action below.
Click on the quick-fact graphic below to view the IMPACT our Career Connections program had last year. For more information, please view our online annual report.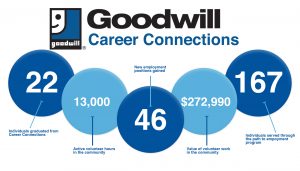 Goodwill is pleased to announce that we were once again declared a CARF accredited program through 2022. This signifies that Career Connections has met all of the requirements laid out by the Commission on Accreditation of Rehabilitation Facilities for quality standards that enhance the lives of people served. 
The Career Connections team is an outstanding group of  Albertans who are passionate about advocating for a more inclusive workforce and society.
— The Path to Employment program currently operates in Edmonton, Sherwood Park, and Spruce Grove —
For more information about getting involved in the Path to Employment program, please call
(780) 944-1414 or fill out the contact form below.

Thanks to a partnership with Resume Target, a professional resume writing service, they are pleased to offer complimentary career-related resources to Goodwill Industries of Alberta members seeking professional development and career tips.  
Please click here to access the career platform and the free resources available.