Goodwill is One of the Largest Employers of Albertans with Disabilities
Goodwill Industries of Alberta is a local non-profit and social enterprise, strengthening communities and making a positive impact across Alberta.

We are a social enterprise on a mission
Goodwill is a social enterprise providing individuals with disabilities the opportunity to enhance their lives through meaningful employment.
We are a donor-driven charitable society
It all begins with a donation. The success of Goodwill's retail operations and our capacity to strengthen the communities around us revolve around the generosity of people in those communities choosing to donate to Goodwill.
We are a
thrift retailer
Items donated to Goodwill are sold through Goodwill thrift retail stores, giving the community the opportunity to obtain quality items at a great value.

We are a Commercial Service operation
Our Commercial Services division offers centre-based employment providing a structured and accommodating work environment for individuals with mental health challenges. Commercial Services provides outsourcing and assembly services to businesses in Alberta.

We are passionate about the Path to Employment
The Path to Employment program provides employment coaching, job search, and training to individuals with intellectual and developmental disabilities.

We are a major recycler of a growing range of donated items
We recycle donated goods that our thrift shoppers choose not to buy into cleaning cloths and other reusable materials through our post-retail operations.
We believe our mission is who we are, our vision is what steers us and our values are what make it possible.
Values
At Goodwill our values drive everything we do. They are an integral part of our organization.

We Care
and
it Shows

We are
Continuously
Improving

We
are
Accountable

We
are
a Team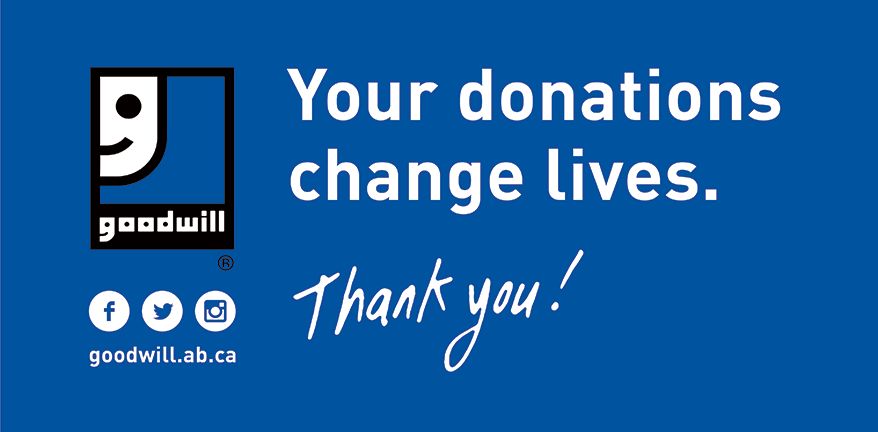 "Together, through the dignity of a job and the power of work, we are changing lives for the better, strengthening families and communities all the while being a steward of a better environment through our recycling, upcycling and repurposing."
-Dale Monaghan
President & CEO