Your Donations Change Albertans' Lives
The Power of Work program supports people with disabilities in locating employment or volunteer opportunities in their communities. Individuals are assisted with identifying their employment goals, employment preparation, job search and employment coaching.
The Power of Work program, in collaboration with employers in Alberta, create opportunities for persons with disabilities to develop skills, be a part of a team and build dignity and purpose through the power of employment. The Power of Work team works collaboratively with Albertans enrolled in the program to develop strategies and support their pursuit of meaningful employment.
— The Power of Work program currently operates in Edmonton, Sherwood Park, Spruce Grove and Grande Prairie —
For more information about getting involved in the Power of Work program, please call (780) 944-1414 or fill out our contact form.
Curious about hiring one of our Power of Work individuals? Hear what our other partners have to say!
How it Works
Hiring employees for your business from the Power of Work program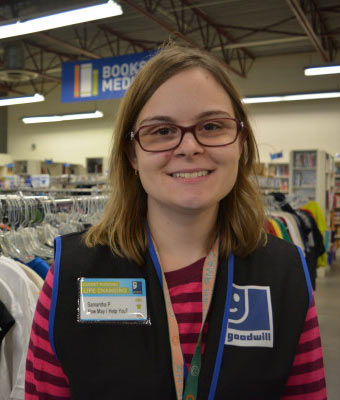 Supported Employment Process
Step one: The Hiring Process

The Power of Work team will work with you to ensure we are addressing the needs of your business, while identifying candidates that are interested in learning more about what you do and demonstrate the necessary skills and abilities to fit with your company's needs.

Step two: Employer Orientation

Prior to your new employee starting, our team will present you with an Employer Orientation, outlining what to expect in our ongoing support process. We also offer Disability Awareness Training to your teams to ensure we are all working on building a naturally supportive environment.

Step three: Employment Support

Working together with your new employee and current team, our Employment Coaches and Coordinators will develop a support plan to ensure we are providing what is required for your new employee to have a successful and long-term career with your company.

Step four: Working Towards Independence

In collaboration with you and your new employee, our team will ensure your new employee is ready and has developed the required skills to begin working independently, with the natural support of their team in their work environment.

Outcome: Independent Employment

By providing meaningful employment to your new employee, you have made a difference in the life of an Albertan with a disability. Independent employment provides the opportunity for your new employee to discover purpose by developing skills and abilities while participating in a team environment.
To learn more about how you can make a difference in the life of an Albertan with a disability please reach out to:
What People Say About Goodwill
Our experiences with Goodwill have been nothing but positive & mutually rewarding. Watching individuals meet their personal goals is a highlight! We find the workers very helpful and eager to work with the staff here to help the clients have a most helpful positive experience while they are here. It is a joy having your clients in our kitchen.
I have a paid job and two volunteer placements. I will be graduating from the program in June. Goodwill has helped me find these placements. Goodwill is a good company.
Goodwill helped me with job search. I learn a lot from the workshops. It's fun to work with the coordinators and coaches.
I am part of the Power of Work at Goodwill. I like having the extra support with the Goodwill coaches and employment coordinators.