Since 1963, Goodwill Industries of Alberta has been a leader in changing lives for the better, strengthening families and communities through the power of work and the dignity of a job.  We pride ourselves on converting donations to tremendous opportunity for Albertans with disabilities through our award winning social enterprise.  Through our Community Connections employment program, we have been highly successful in partnering with companies and organizations to create employment in the community with these partners.  We do all of this with a commitment to environmental stewardship and sustainability ensuring the opportunities we create and generate today do not impair opportunity for future generations, and our planet.
Aligning with best practices and playing our part to support a healthy, vibrant and safe community, beginning August 1st within the cities of Calgary and Edmonton, Goodwill Industries of Alberta is aligning with local governments, as the two noted cities are mandating that face coverings are to be worn in all public spaces.
This means that all shoppers in Calgary & Edmonton must wear a face covering upon entering Goodwill stores.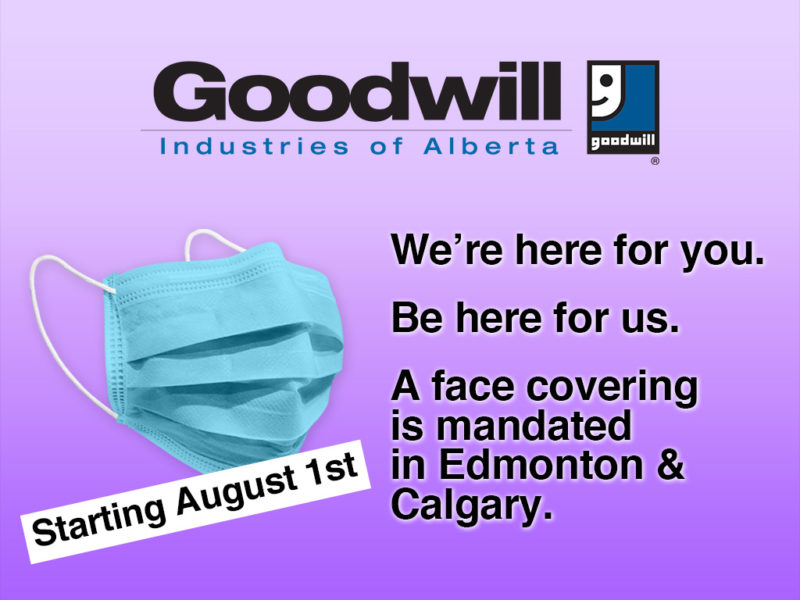 We embrace this opportunity to protect the health and well-being of everyone at Goodwill, including all of our valued team members, volunteers, donors and shoppers. There will be challenges moving forward with this, though we are committed to uphold expectations from a health and safety perspective, protecting those who are most vulnerable.
In terms of the other five communities we proudly serve and have operation within, Spruce Grove, Strathcona County, Airdrie, St. Albert and Grande Prairie have not mandated face coverings to be worn; we though encourage the use of face coverings and encourage you to continue to practice social distancing, regular hand washing and proper sanitization protocols.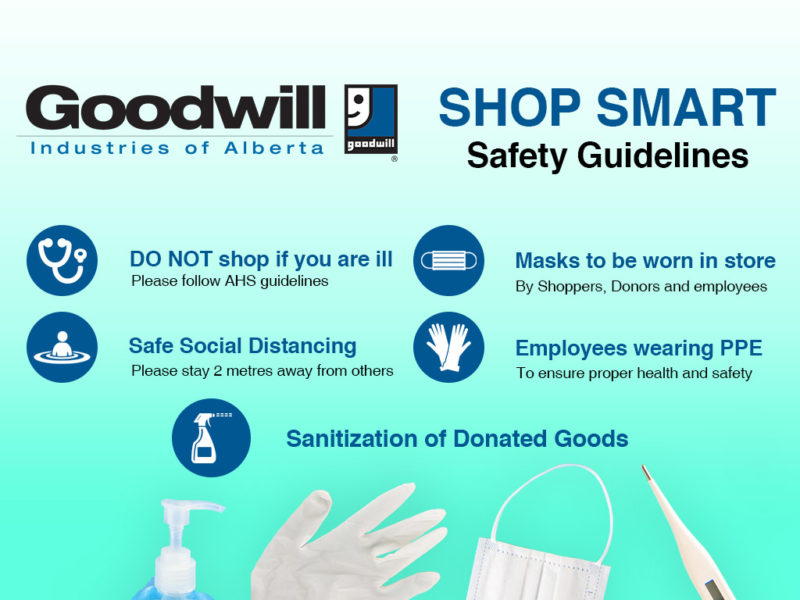 The Edmonton Impact Centre and Outlet store continues to have rules in place for safety:
• Maximum capacity of 18 people
• Only 1 entrance and exit.
• Face coverings mandatory for all customers
• Shopping age restrictions. No one under the age of 16.
• One customer per bin, with identified markings
• Payment by debit/credit card preferred
• Sanitization and disinfection of all materials
• Customers who violate new procedures may be asked to leave.
This is a large step to bring back an organization that has helped so many through the power of work as 89% of funds raised from purchases at Goodwill go back into programs to help those with disabilities find and gain meaningful employment.
Policies will be in place for Goodwill's thrift retail stores, including but not limited to:
Sneeze guards at the check-outs
Physical Distancing measures
Maximum occupancy limits
Employees wearing COVID related personal protective equipment
No contact donation drop-offs
Disinfecting and sanitizing all donations upon arrival in partnership with True North Environmental Solutions.
The world has changed, but our community hasn't. Our province continues to share goodness to our fellow neighbours who are quarantined. We continue to deliver good vibes throughout our cities. We give when we are struggling. We help when we need help the most. Together, we are spreading the good.