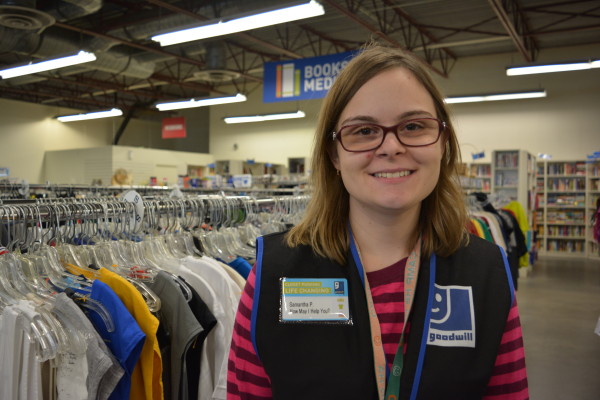 Before Sam started working at Goodwill Industries of Alberta she felt like things were stacked against her. Former coworkers would often reminded Sam of what she couldn't do and they were unable to see her talents.
Last year Sam came to Goodwill's Manning location through the Power of Work program, which supports people with disabilities in locating employment. Today she has a very different outlook on life.
"Sam told us that before she started here, in many, many other places she's been to, she was told, 'Pay attention; just do your job,'" said Glenn Forth, store manager and Sam's supervisor. "She has excelled here and has made incredible growth and progress with our team."
Sam's abilities were evident shortly after she started working with Glenn's team. After only two months of working with a Power of Work job coach, she was able to work independently.
"My team believes in me and supports me in whatever I do," said Sam. "I feel less anxious when I am doing a dressing room. I enjoy socializing with my co-workers and the customers. I enjoy doing job searches and making new friends with my co-workers and at Power of Work."
When she first began working she was timid and shy and now her exuberance and positive energy is tangible. Sam feels that the Manning Goodwill team has changed her life even when her days are challenging.
Every day when Sam comes to work, the team reinforces, "Yes, you can do that!" or "Just do your best!" By focusing on her abilities and with the support of her team, Sam has really come out of her shell.
Shoppers and employees with warm enthusiasm and she has the ability to make anyone's day a bit brighter.