Welcome to the Goodwill Online Thrift Store! We're excited to now offer you the ability to shop Goodwill from the comfort of your home.
Browse our products, add your favourites to the cart and place your order. Schedule a pickup date and time and drop by one of our stores to grab your items – it's that simple!
Familiar with online shopping? Our online thrift store functions just like any other online store. Here are some tips and tricks for your shopping convenience.
How to start shopping
How to find items
Checking out
Ways to pay
How to get your goods
Why pick up only?
Ready to start? Let's get shopping!
Getting started
First things first – create an account so you can checkout with ease. Register and set up your address and billing information for faster and smoother checkout.
Here's how you can create an account in two simple steps:
In the blue bar at the very top of your screen, click My Account. If you already have an account you can enter your login details here to sign in.
To create a new account, just enter your email address in the Register box and click the Register button. You'll find your password in your email address.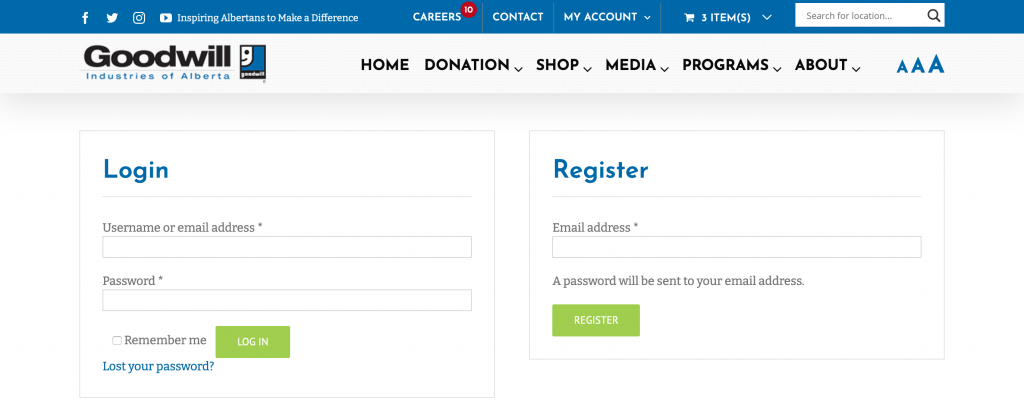 Once you register, the Goodwill online thrift store system will automatically log you in. Now, you'll see your account dashboard where you can review your orders, add and edit your billing and shipping information, payment methods, and account details, including your name and display name. You can also change your password here, under Account details.
Fill out all of your information and save it to start shopping!
*Make sure to update your password to replace the randomly generated one created during registration.
If, at any time, you would like to access or change your information, navigate to the top blue bar, hover over My Account, and make a selection from the dropdown.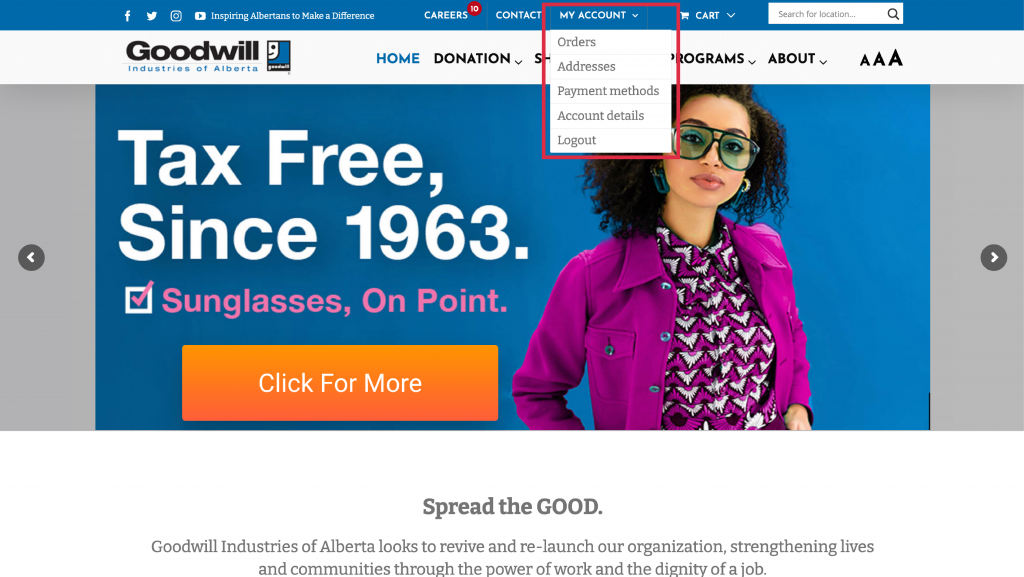 Now that your information has been added and saved, let's start shopping – hover over the Shop tab at the top of your screen and select Goodwill's Online Thrift Store from the dropdown.
Find your favourites
You can browse our wide range of products online in a number of ways. Browse by pickup location, product category, price, and even colour.
To browse by pickup location:
On the right side of your screen page, under Browse Categories, select Pickup Location.
Choose the location you would like to shop at. This will filter items based on the store they're located at.
Feel free to also filter by price. Find this option under the Browse Categories box.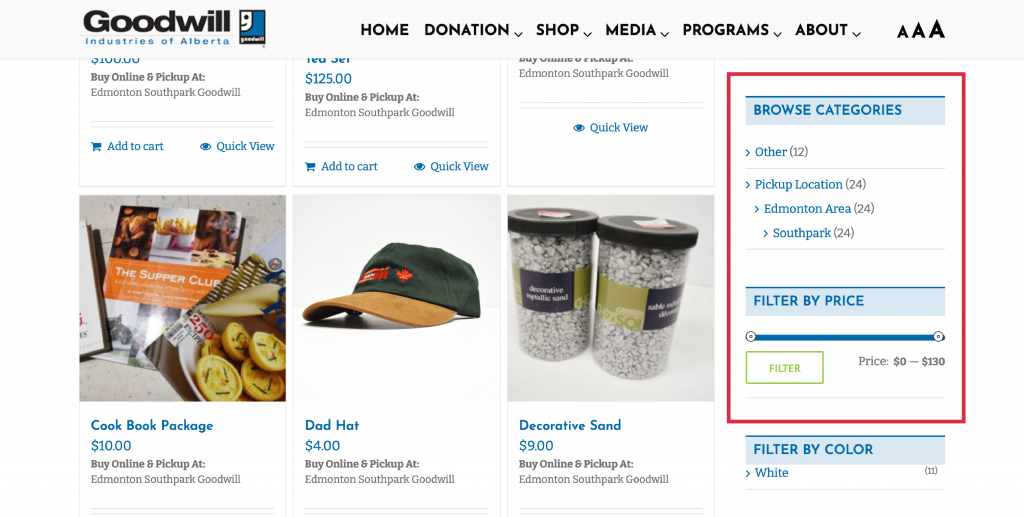 See a product you like but want to learn more about it before adding it to your cart?
To learn more about one of our gently used products, simply click on the product's title or select Quick View in the bottom right corner of the item's box to see an overview of product details.
On the item's description page, details about the product will be shown, along with the option to add the item to your cart. Additional images are also on the item page. To zoom in on an image, just hover over it. This page also shows the item's pickup location. This location is important to note – especially if you'd like to pick up your items from a local location.
Additional details and a description of the product can be found by scrolling down the product page. Here, you'll also see related products that you might be interested in.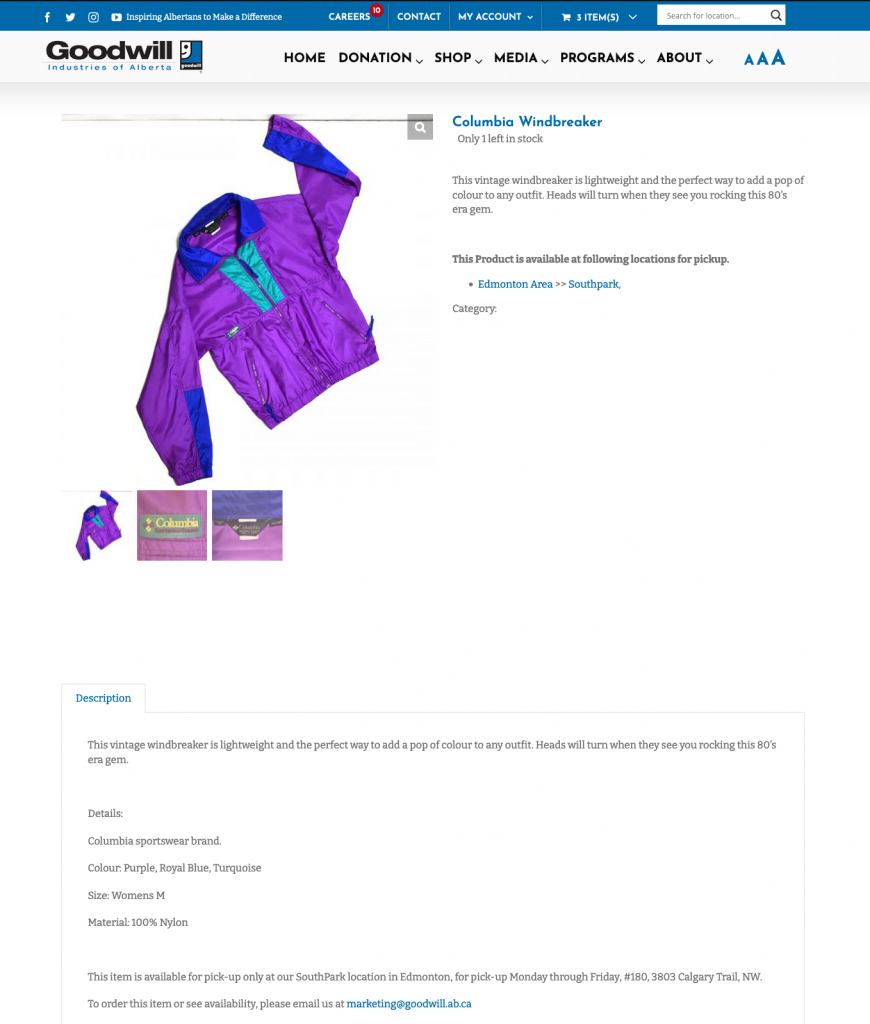 Look through our selection of items, find your favourites and add them to your cart.
Current thrift store pickup locations
As we try out the new online ordering we have limited pick-up of online Goodwill purchases to two initial thrift store locations in Edmonton. Are you from Calgary? Don't worry, we will be starting online sales there ASAP!
Goodwill Southpark Edmonton Thrift Store
Edmonton Impact Centre Wholesale Thrift Store/Pound Store
Checking out
Finished shopping? Navigate to your cart to check out. A link to your cart is in the top right corner of your screen.
Once in your cart, you'll find all your items, their prices, the total cost, and the pickup details for the items.
Ready to make your purchase?
If you've already registered and set up your account then your checkout details, including billing and credit card information, should be all set to go! If your info hasn't been added, no worries – input your details now.
Fill in your billing details on the left, review your order and pick up location on the right, and schedule your pickup appointment.
To schedule your pickup, click in the box (or on the calendar icon) below Schedule a pickup appointment. You'll find this option on the right-hand side of your screen. Choose the day you would like to stop by to pick up your items. Then, select a pick up time from the Available pickup times dropdown. Please note, all times listed are in MDT.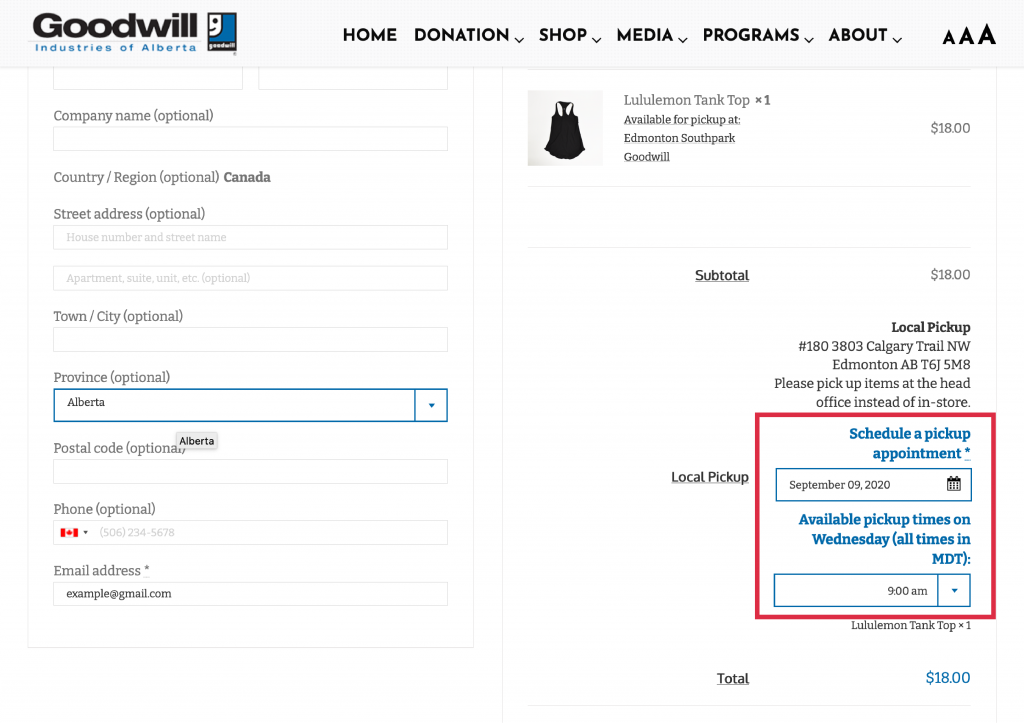 Once you've selected your pickup day and time, add your credit card information (if it hasn't already been automatically loaded using your registered account details) or select Email Money Transfer for e-Transfer details.
Finally, click Place Order and do your happy dance – your items will be waiting for you on your scheduled pickup day!
*Don't forget – be sure to check the pickup location to ensure your items are available locally.
2 ways to pay
You can pay for your order using a credit card or via e-Transfer. If you're paying by e-Transfer, it's important to note that you must complete payment within 24 hours or your item(s) will be forfeited.
E-Transfer details are provided at checkout.
Getting your goods
You can pick up your items at the local pickup location(s) listed on your checkout page. The item(s) will be ready for pickup on the date and time you scheduled at checkout.
Why pick up only?
At the moment, the Goodwill online thrift store offers items for pickup only.
Shipping may be available in the future however, the logistics for shipping are currently too difficult with all the stores and the limited number of items.
Stay tuned for changes and updates to this policy!
You're ready to start shopping now that you've seen the ins and outs of our new online store!
Shop with Goodwill and skip the tax all while helping to create positive change in your community. It doesn't get much better than that!
Ready? Set. Shop!
Questions? Comments? Suggestions? Let us know. Contact Goodwill Alberta – we'd love to hear from you.