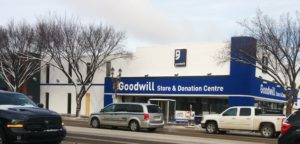 Edmonton – Save the date on November 25 Goodwill Whyte Avenue store opens to shoppers. Goodwill is opening its new store & donation centre on Whyte Avenue in a great location at 10110 Whyte Ave, on Saturday November 25 at 10 am.
The new store replaces our current Goodwill store and Donation Centre in Old Strathcona at 7808 Gateway Blvd which closes down on November 22.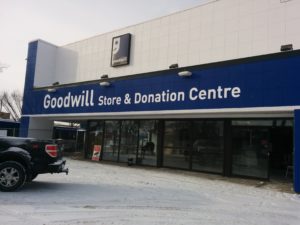 "Our new store on Whyte Avenue will offer shoppers great boutique items, and a different fashion forward feel and look compared to a typical thrift store," said Deborah Moisan, store manager of Goodwill's Whyte avenue store.
Deborah adds shoppers will find great pieces for the grand opening on Nov 25. Shoppers will get a discount coupon on opening day that they can use towards their next purchase.
The Goodwill store on Whyte Avenue will also include a mobile stage. "We are located in a vibrant community and by having a stage at the store we can host performances related to events taking place in Old Strathcona," said Deborah. "The stage is also open to community members who would like to donate their time to share upcycling and DIY tips for items available at Goodwill stores," adds Deborah.
Goodwill Whyte Avenue store opens on November 25 from 10 am to 6 pm.
Our Whyte Avenue location is also be home to Goodwill's Career Development and Training Centre for Albertans with disabilities. Goodwill is a non-profit and a registered charity dedicated to providing meaningful employment and career development training for Albertans with disabilities; 89.6% of the revenue generated from the sale of donated items in our thrift stores is reinvested in our non-profit's mission.