The good thing about upcycling is that there really are no limits to what you can create. It's a sustainable, cost-effective option, and anyone can join the upcycling revolution and undertake a range of upcycled furniture projects!
This revolution has came to Goodwill as our organization goes back to our heritage. Back to where it all began.
In conjunction with ATB Financial through the Sustainable Action Plan, Goodwill has created the Repair for Good program. A program that takes discarded furniture and keeps the items out of the landfill by upcycling and creating a new centre piece for your home. Oh and the people refurbishing these furniture pieces? That's right, they are volunteers and employed Albertans with disabilities. The transformation is amazing!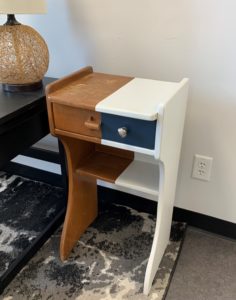 Goodwill has even had live demonstrations at our Goodwill Westview Thrift Store and Donation Centre where people could watch first hand how these pieces have been upcycled!
Funds from each purchase will go towards programs that will help more people with disabilities find purposeful employment. Our trainers will inspect all items for quality before pick-up. Please message for more details. Prices are firm with pick-up in the West End of Edmonton. 11415 168st. NW
Courtesy of Doug Roxburgh
Goodwill Industries of Alberta Contributor