Stampede 2020 left a mark that will all remember for years to come!
Despite the official cancellation of the 108th Calgary stampede, the stampede spirit couldn't be cancelled at Goodwill stores and for western influencers like Renata Perili. Renata shares her love of all things western and country including her love of thrifted and vintage fashion on her Instagram page @Renata.Rae. Renata loves styling unique and vintage pieces to create outfits that can go from the rodeo to the midway and beyond.
In keeping the stampede spirit alive this year, we tagged along as Renata took us through a typical pre-stampede week shop at our Calgary Goodwill stores and as she shared her final #GoodwillStampede looks. She hit three of our Calgary stores and shopped for pieces not only for her but her two adorable kids – daughter Aurora and son Connor.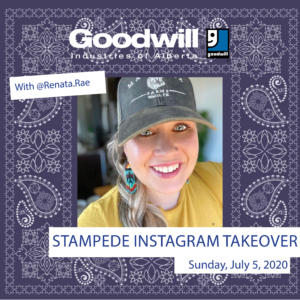 Here's a few of Renata's go to tips for putting together your perfect Stampede outfit together at Goodwill:
Accessories make an outfit – Renata looks for anything that has a vintage vibe and has conchos. Sometimes she'll even looks for a cool bolo tie – a closet staple for cowboys and girls!
Belts are a must – they are a great way to add shape and western flair to any outfit
Look for the white cowboy hat – You'll be in great company if you don a classic Calgary white hat – like Princess Kate and Prince William did in 2011! Goodwill carries many of the Calgary classic white hats that are great quality and perfect for any weather at the grounds.
Look for little unique details on cowboy boots – Details, extra design elements add a bit of interest and style to your outfit.
Don't forget to give your home the western/stampede treatment – from picture frames, to mugs to western/prairie inspired art work, the stampede spirit can even live on in your home décor!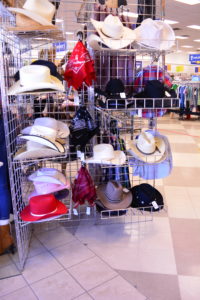 Throughout the week, Renata shared her final #GoodwillStampede looks with us and we're not sure which look we loved best!
#GoodwillStampede Look Day 1: Come Hell or High Water ???? This Hell or High Water tee was originally printed in 2013 after the Calgary floods. It's a reminder (especially this year!) of how strong and resilient Calgary is when the community comes together!
T-shirts go with everything – and can be dressed up or down with a skirt or a pair of jeans. T-shirts are also great for hot days on the grounds – perfect for an afternoon at the rodeo or a night at the chuckwagon races!
#GoodwillStampede Look Day 2: Cowgirl Tough ???? Here's one of the cutest models ever! Renata's daughter Aurora is cowgirl tough and ready for a day checking out the agriculture barns or riding horses at the ranch!
Renata always looks for brands she loves and knows – check out Aurora's outfit details below! ???? Levis ???? Ariat ???? Carhartt
Thrift Tip: Kids outgrow their clothes so fast – thrifting is a great way to find quality, brand name items for your kids without breaking the bank
#GoodwillStampede Look Day 3: Cowboy Connor ???? Meet Cowboy Connor! Renata's son Connor is the cutest cowboy we've seen these past 6 days – ready to take on the rodeo or the rides at the kids midway ????
As the sun sets on Stampede for 2020, thanks to everyone who followed along on Renata's take over, shopped our showed their boots and keep the stampede spirit alive. 2021 is sure to be bigger, bolder, and even better  – Yahoo!