On May 26th, Mayor Don Iveson recognized Edmontonians making a difference for persons with disabilities at the 20th Mayor's Awards. The awards honour those who make significant contributions to Edmonton's livability for all, and shine a spotlight on innovations in accessibility. "Every year I am incredibly proud to present awards to Edmonton's accessibility advocates and leaders," said Mayor Don Iveson. "These Edmontonians' determined spirit and capability to include all individuals, no matter the ability, is truly remarkable. Together we are building a more inclusive Edmonton."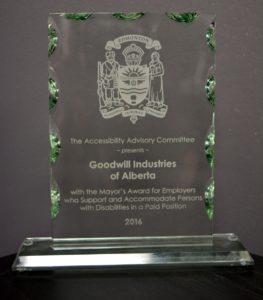 The annual Mayor's Awards are presented to recognize individuals, organizations and businesses in Edmonton who use creative methods to ensure the dignity and inclusion of persons with disabilities.
Goodwill was proud to receive the Mayor's Award for being a top employer of people with disabilities.
Inasmuch as being named in May of 2016 the "Best Brand" in America by Enzo, and inasmuch as being named 4 consecutive years running one of Forbes Top 20 Most Inspiring Corporations in America. "It's what Goodwill does, achieves and accomplishes right here in Alberta and here in Edmonton that matters to me, our team of 600 Goodwillians, our Board of Directors, our hundreds of thousands of store shoppers and those who donate used household goods and clothing to Goodwill" said president and CEO Dale Monaghan.
Goodwill's purpose is as a social enterprise we provide career development and job placement for Albertans with disabilities. In the past few years, we have become one of the largest employers of persons with disabilities in Alberta and we partner with outstanding businesses to place well trained and readied persons with disabilities into great jobs in the community.